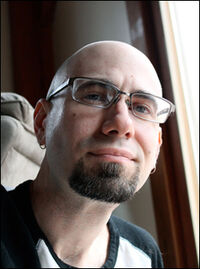 Nate Piekos is the letterer of The Black Beetle (series).
from Blambot.com
Nate Piekos graduated with a Bachelor of Arts in Design from Rhode Island College in 1998. Since founding [Blambot.com], he has created some of the industry's most popular fonts and has used them to letter comic books for Marvel Comics, DC Comics, Oni Press, and Dark Horse Comics, as well as dozens of independent publishers. In 2001 he became type designer to Harvey Award Winner, Mike "Madman" Allred, and has had his designs licensed by such companies as Microsoft, Six Flags Amusement Parks, New Yorker Magazine, The Gap, and many more. Nate's work has not only been utilized in comics, but in video games, on television, and in feature films as well.
When not designing, Nate is committed to a regular fitness routine, reads voraciously, writes and illustrates webcomics, and is a dedicated musician. He's married and lives in New England.
Work on The Black BeetleEdit
Nate Piekos was brought on to The Black Beetle as the series letterer. Night Shift had been lettered by Francesco Francavilla when it originally appeared in Dark Horse Presents, but when the three parts were collected into a single issue, Piekos relettered it for stylistic consistency with No Way Out and future Black Beetle stories.
Designing the Black Beetle fontsEdit
Nate Piekos has written about his design process for the series at Dark Horse Comics.
Industry Acknowledgements
Edit
from Blambot.com
Recipient, 2010 Rhode Island College Alumni Honor Roll Award for Success in the Field of Design
Nominee, 2010 Eagle Award for Best Letterer
Winner, 2012 Ghastly Award for Best Horror Letterer
Nominee, 2013 Stumptown Award for Best Letterer
Design Director, 2013 Liberty Annual benefit for the Comic Book Legal Defense Fund