No Way Out is the first Black Beetle miniseries.
Publishing History
Edit
Pulp Sunday
Edit
No Way Out was originally published on Francesco Francavilla's blog, Pulp Sunday. Ten pages were published from May to August 2009, billed as "Part 1 of 6". These pages were printed in The Black Beetle in 2009.
Dark Horse Comics
Edit
When No Way Out was published by Dark Horse in 2013, the ten Pulp Sunday pages were revised and recolored to better match the new pages.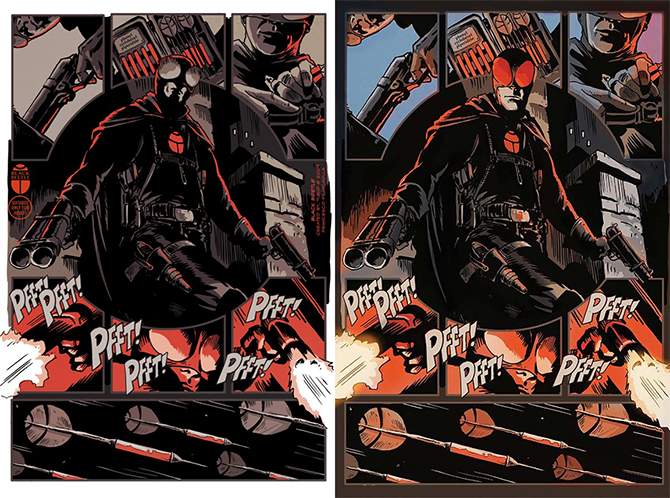 Solicitations
Edit
Issue #1: Black Beetle's investigation of two local mob bosses is interrupted when a mysterious explosion murders them and a pub full of gangsters—taking out most of Colt City's organized crime in one fell swoop. Who could pull off such a coup, and what danger might that murderous bomber do to Colt City and Black Beetle?
Issue #2: While investigating a mysterious mass murder that leveled Colt City's mob bosses, Black Beetle gets wrapped up in a puzzling maze of clues. Could the appearance of a costumed criminal named Labyrinto be related to the destruction of the powerful organized-crime racket?
Issue #3: Under the watchful gaze of the mysterious Labyrinto, Black Beetle fights for his life! Is this the doing of a man that Black Beetle thought was dead? Could a zombie mobster be commanding the foes of Colt City's dark avenger?! If he survives the night, the investigative insect will be left with questions to ponder as he takes his investigation . . . to the morgue!
Issue #4: The epic conclusion to Black Beetle's first series! Colt City's caped crusader goes head to head with the mysterious villain Labyrinto! Can Black Beetle make it out of this maze of matched wits and matched blows alive?!
All covers are by Francesco Francavilla.