The Black Beetle is a line of comic books created by Francesco Francavilla and published by Dark Horse Comics.
Publication History
Edit
Pulp Sunday
Edit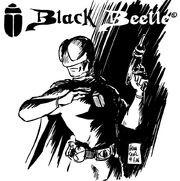 The first appearance of the Black Beetle character was as a ten minute sketch on the forum drawingboard.org on the twelfth of January, 2006.
[1]
In 2009, Francesco Francavilla held a poll on his blog,
Pulp Sunday
. He had decided to do a webcomic and asked readers whether they would rather
Max Malone
or
The Black Beetle
, described as "in the vein of masked vigilante pulp in some sort of '40s/'50s settings, with some slight (40s/50s) sci-fi tone to it".
[2]
More than two-thirds of the readers voted for
The Black Beetle
. Shortly after, he came up with the setting of Colt City, his own mix between New York City and Gotham City.
[3]
On Sunday, May 17, 2009, The Black Beetle series made its debut in a post titled Black Beetle: Lost Wars.[4] It was the first page of No Way Out (although at the time this title had not yet been announced). This first appearance ran for a total of ten pages, appearing on most Sundays until August 2, concluding with the Black Beetle falling from a rooftop.[5] These ten pages were billed as the first part of a six-part story. The pages were printed in The Black Beetle ashcan, which was first sold at HeroesCon 2009.[6]
In December 2009 Francesco Francavilla attempted to tell a shorter Black Beetle story, Kara Böcek, between his paid publishing work. The plan was to update as frequently as possible, sometimes twice a week on Sundays and Wednesdays.[7][8] The story was never completed and was abandoned on the eleventh page.[9]
Dark Horse Comics
Edit
In December 2011 Dark Horse announced The Black Beetle's debut in the pages of Dark Horse Presents. The story, Night Shift, was told in three eight-page parts in issues #11-13 (April–June, 2012).[10] The story was later republished as The Black Beetle #0 in December 2012.[11]
At a Dark Horse convention panel in July 2012, Francavilla announced that The Black Beetle had been picked up for its first miniseries, No Way Out, the story originally started on his Pulp Sunday blog. The series began its run in January, 2013.[12] The first ten pages were from the original version of the story on Pulp Sunday, but recolored and with altered text and art.
In 2013, at the Emerald City Comicon, it was announced that The Black Beetle would continue at Dark Horse as an ongoing monthly series.[13] This was later corrected by editor Jim Gibbons, who said the series was going to be "semi-monthly".[14] Francavilla has further clarified, it will be an ongoing series of miniseries.[15]
Issue
Title
Date of Publication
Story
Art
Colors
Cover
Collection
DHP (2011) #11

April 18, 2012
Francesco Francavilla
The Black Beetle


VOLUME 1


No Way Out
DHP (2011) #12
May 23, 2012
DHP (2011) #13
June 20, 2012
#0 (reprint)
December 19, 2012
#1

January 16, 2013
March 13, 2013 (2nd printing)
Francesco Francavilla
#2
February 20, 2013
#3
April 17, 2013
#4
June 12, 2013
DHP (2014) #28

November 16, 2016
Francesco Francavilla
The Black Beetle
Kara Böcek
DHP (2014) #29
December 21, 2016
DHP (2014) #30
January 18, 2017
DHP (2014) #31
February 15, 2017
DHP (2014) #32
March 15, 2017

Francesco Francavilla
Numbering
Edit
Each issue of The Black Beetle has a number on its cover denoting which issue of the miniseries it is. Additionally there is an internal numbering on the inside cover, which is an ongoing numbering for the entire series.
Collections
Edit
The Black Beetle stories are collected into hardcover collections, the first of which recently came out.
Volume
Cover
Title
Date of Publication
Collects
Extras
1

No Way Out
October 16, 2013

Foreward
by Darwyn Cooke
Sketchbook
Gallery

—

Kara Böcek
September 6, 2017
Foreign Language Editions
Edit
References
Edit